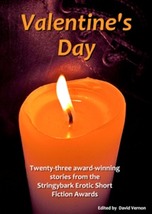 Valentine's Day — twenty-three award-winning stories from the Stringybark Erotic Short Fiction Awards
edited by David Vernon, e-book and paperback,  Stringybark Publishing,
ISBN: 978-0-9875239-1-4  $14.95 includes postage within Australia.  Discounts for multiple purchases.
I lie, warm and relaxed, on my stomach, my legs slightly parted. A crackling fire in the hearth heats the room and there are scented candles casting a comforting glow over the walls. Our nest is perfectly arranged. I have learnt to relax in this splayed position over the past couple of years. My wrists are tied with silk to the bedposts and I wait with increasing impatience for the game to start. — from "Silk" by Michael Wilkinson
He reaches into the bath, and with a wordless question she answers in her smile, pulls the plug and they both watch as the water subsides, exposing her body, covered with snow drifts of bubbles, and swirls of receding water. Extending a hand he pulls her to her feet, and reaches for the towel, then expertly starts to dry her. This unexpected expression of devotion creates such a sensation of care and delight she laughs, then reaches up and kisses him soundly, dripping bath water down his beard and onto his shirt. They hold each other, kissing softly. — from "The Loving" by Rees Campbell
Twenty-three award-winning erotic short stories illustrate the creativity and sensuality of contemporary erotic writing in this delightful anthology. Chosen from over 160 entries in the Stringybark Erotic Fiction Awards these sexy tales will charm, arouse and provide warmth on the coldest evening. From the discreet to the explicit there is something for every reader.