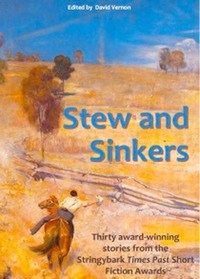 Stew and Sinkers — thirty award-winning stories from the Stringybark 'Times Past' Short Fiction Awards
edited by David Vernon, e-book and paperback,  Stringybark Publishing,
ISBN: 978-0-9875239-3-8  $14.95 includes postage within Australia.  Discounts for multiple purchases.
We weren't the church going types but Sally didn't want to get married in a garden. People don't listen in gardens she'd said. Too many distractions with barking dogs and noisy kids. A wedding is an important thing apparently; vows should be absorbed by all guests. Not sure why this is a priority when the guest list boasts the likes of Sally's Aunty Dot with uncontrollable gas and a penchant for yelling out to every passer-by to fetch her a beer. But who was I to question?  — from My Ernest Decision by Kylie Orr
"Yer 'usband." Donohoe cocked the pistol. "Where is he?"
Sarah froze.
He crossed the room, jammed the pistol to her throat, so she coughed.
"Out with it, moll!""Laying dingo traps," she gasped.
The pressure eased. "Anyone else 'ere?"
She shook her head.
A speculative gleam appeared in his eyes. "Well now," he came closer, whispered in her ear, "'tis just the two of us."  — from Stew and Sinkers by Debra Booth
Thirty award-winning short stories from the Stringybark 'Times Past' Short Fiction Awards entertainingly bring Australian history to life. From the first Australian hanging to twenty-first century medical care, these true stories will delight, challenge and intrigue the most demanding reader. Written by some of Australia's best contemporary short story writers, as well as new talent, each tale illuminates a forgotten part of Australia's history.