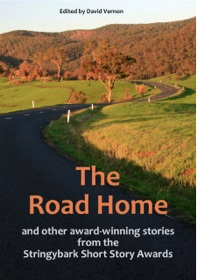 The Road Home and other award-wining stories from the Stringybark Short Story Awards
edited by David Vernon, 142 pages, paperback and e-book, Stringybark Publishing, ISBN: 978-0-9870922-9-8
"Is he going to be woofed and poofed like my Pixie?" 
"Woof… woof, woofed and p-poofed?"
At Bill's quizzical frown, the child pointed to the dog-grooming salon. "Mum says Pixie costs a fortune to keep smelling and looking nice." A dollop of chocolate liquid fell from the cone onto Tipper's nose. A pale tongue licked it off. "Oh Mister, I'm sorry. He'll get sick. Good thing the animal doctor lives next to the poofing shop."
"Clever thinking young lady, don't… don't worry he'll be-be-be… okay." Bill smothered a chuckle. He didn't feel like laughing although her innocent logic was irresistible. Should've waited in the car, he thought. 
— from Top Dog by Barbara Fraser
Thirty-three highly entertaining short stories explore the nature of Australia and the Australian character in this anthology of award-winning stories. Written by established and new writers, each story has been chosen for its unique contribution to Australian literature. Chosen by Gina Meyers, Jill Jolly and David Vernon.