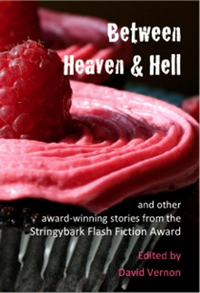 Between Heaven and Hell and other award-winning stories from the Stringybark Flash Fiction Award
edited by David Vernon, 122pp, paperback
Stringybark Publishing ISBN: 9780987092229
$14.95 $9.95 includes postage within Australia.  
Discounts for multiple purchases. 
Bikinis undulated, underwater pennants marking high points in Lachie's life. Pink crocheted triangles, stiff with salt water, unknotted with fumbling fingers his first time. Sporty Lycra, cupping surf carnival competitors' taut buttocks. Sequinned strings, slinking from the glittering loins of tired-eyed strippers at his brother's buck's night. Today, his girlfriend Em wore a shimmering cobalt bikini, the colour of the flash on a kookaburra's wing (from Free-Diving by Morgana MacLeod).
Writers from all over Australian have contributed to this delightful anthology of thirty-eight flash fiction stories. Each story is complete in 1000 words or fewer. Written by established and first-time writers, these stories are the best of the entries in the Stringybark Flash Fiction Awards. Selected by David Vernon, Nadine Smith, Sarah Whitehead and Rick Williams.