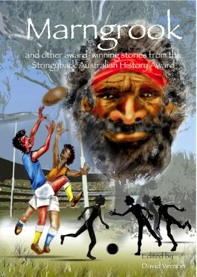 Marngrook and other award-winning short stories from the Stringybark History Short Story Award
Stringybark Publishing, ISBN: 978-0-9870922-8-1
$14.95 $11.95 includes postage within Australia.  
Discounts for multiple purchases.
"People don't understand how desperate you have to be to eat a boot," he replied. "Exploration of uncharted territory is very demanding, especially in the arctic. They don't realise what we went through: the bitter cold, the scurvy, the unknown.  Men died of starvation out there; they did desperate things. These were good men reduced to scraping moss from rocks to survive. Yes, we ate boot leather as well, but it was an act of desperation, a last ditch attempt at survival. They act like I ate my boots as a matter of choice."
— from Act of Defiance by Harold Mally
Twenty-six award-winning short stories vividly bring Australian history to life, in this  anthology from both established and new writers.   Chosen by Gregory Blake, Jamie Hodder, Nadine Smith and David Vernon, Australian history has never been more interestingly and entertainingly presented.